⚽ 🎮 📖 👨‍👩‍👦
I am from Patan, Nepal one of the town within the Kathmandu valley. I completed my Bachelor degree in Optometry from the Institute of Medicine, Nepal in 2003. Following the graduation I worked as an optometrist at the Om Hospital and Research Centre in Kathmandu. More about Patan and Nepal in the videos at the end of the page.
I then moved to the Maldives to work in a private practice in 2004. Maldives, with its out of the world white sand beach, definitely is the most beautiful place I have been to so far. Following the Indian Ocean Boxing day tsunami in 2004, I moved back to Nepal to work as an optometrist at the Om Hospital. During this time, I was involved in studies investigating the causes of ocular morbidity in school going children in Kathmandu. Another study investigated causes of visual impairment and efficacy of low vision devices in chidren studying at school for visually impaired.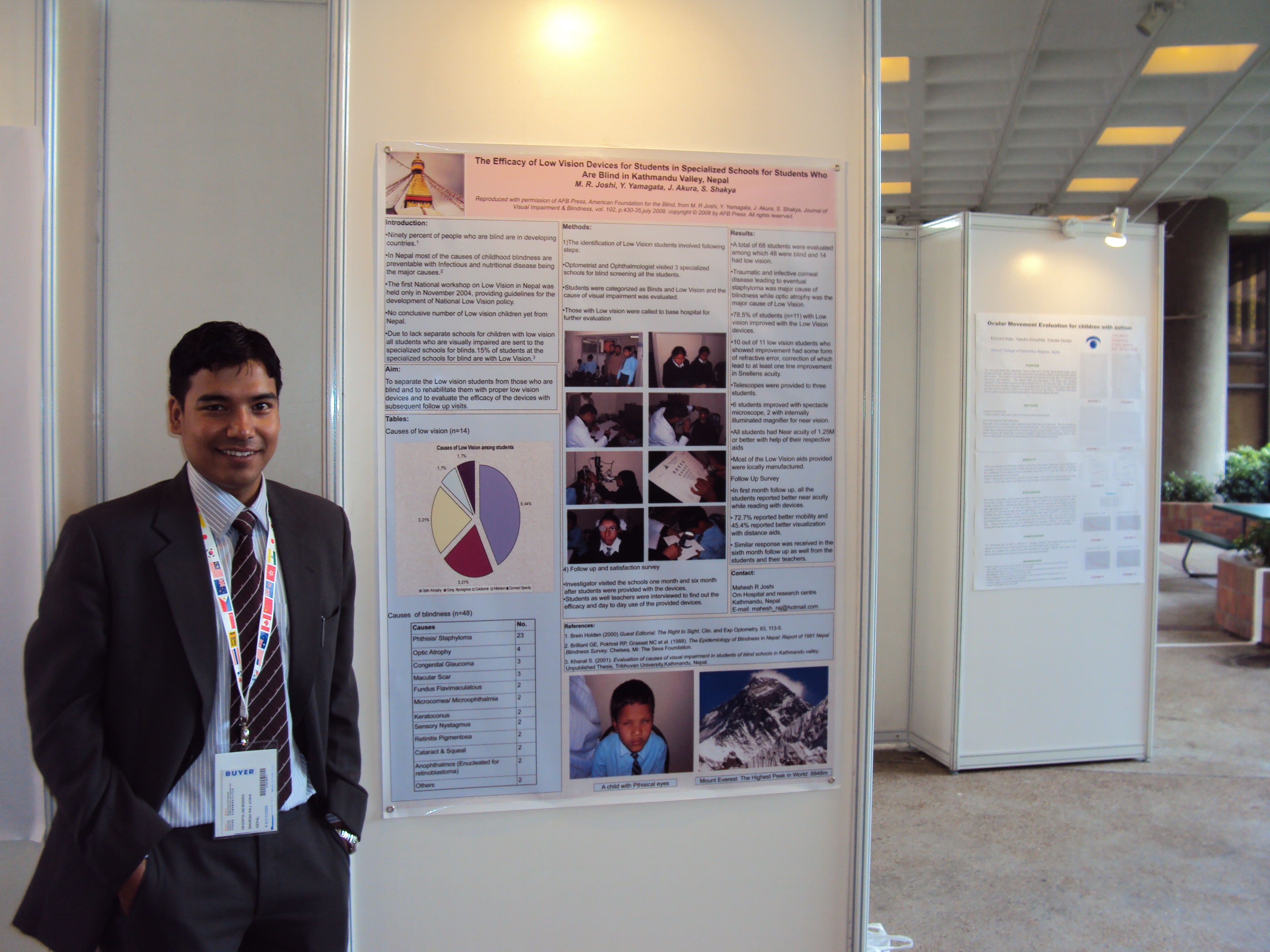 Presenting at Asia Pacific Optometry Conference, 2009.
In 2009, I was awarded the Lanekassen International Scholarship by the Norwegian government for Master of Philosophy in optometry at the University of South-Eastern Norway, Kongsberg. For my Masters project I worked on the research project looking at the development of global motion in school aged children under the supervision of Prof Helle K Falkenberg. This was my first experience of Matlab programming language and I learned the skill that is useful even today. Norway was a different experience for me, moving to Northern hemisphere having lived mostly in tropical places. The two years spend in Norway was different; the summer were glorious while the winter not something to look forward to except for skiing.
After completing my Masters degree, I moved back to Nepal before taking up PhD studentship at the Glasgow Caledonian University in 2012. For my PhD, I worked on project investigating the role of noise in motion and shape perception in normal and clinical population under supervision of Dr Seong Taek Jeon and Prof. Anita Simmers. We showed that the both motion and form (shape) perceptions are affected in amblyopia. Contrary to the previous studies, we show that the form perception may actually be affected more compared to motion using equivalent stimuli. These findings challenge the dorsal stream vulnerability hypothesis in the developmental disorder such as amblyopia. The project involved programming in Matlab and I leared the intricacies and implementations of psychophysical methods in more detail. The skills have been useful to develop newer experiements and continue my research in visual psychophysics.
In 2017, I moved to Trinidad and Tobago to take up lecturer position at the University of the West Indies in Trinidad and Tobago. This was my first foray into proper University teaching. I enjoyed teaching binocular vision and visual perception to very eager and responsive students. Trinidad and Tobago is another tropical paradise with a mix of beautiful beaches, eclectic foods and culture. In September 2018, I joined the University of Plymouth as a lecturer where I currently teach Binocular Vision, Contact Lens, and Low Vision.
Patan:
Nepal: